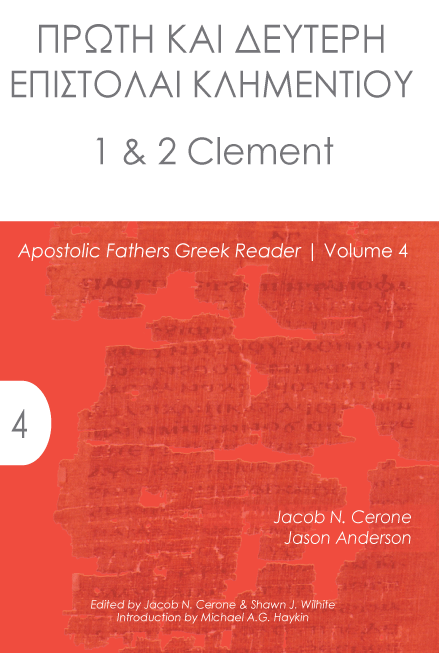 The Apostolic Fathers Greek Readers series assists students of Greek in their reading of non-biblical Koine Greek. In this volume, readers will engage the Greek text of 1 & 2 Clement. Vocabulary words occurring less than 30 times in the Greek New Testament are provided to help students quickly read the text and focus on its syntax. This work also includes an introduction and a select bibliography that orients readers to the life, setting, and theology of Clement. The bulk of the book focuses on the annotated Greek texts of 1 Clement (Jacob Cerone) and 2 Clement (Jason Andersen). Together, these elements make this Greek reader an ideal resource for students of early Christianity.
1 & 2 Clement
Jacob N. Cerone is a PhD Candidate in New Testament at the Ludwig Maximilians University (Munich, Germany). He earned his BA from Moody Bible Institute and both his MDiv and ThM from Southeastern Baptist Theological Seminary. His thesis, Into the Deep: A Comparative Discourse Analysis of the Masoretic and Septuagint Versions of Jonah, has also been published with GlossaHouse.

Jason Andersen is Pastor of All Nations Baptist Church in Minneapolis, Minnesota, where lives with his wife and two daughters. He completed his undergraduate work at the University of Northwestern, St. Paul (Minnesota) and his graduate work at Southern Baptist Theological Seminary (Louisville, Kentucky). In addition to studying ancient languages, he enjoys gardening and drinking tea.

Due to COVID-19 and the increasing amount of orders being received, please expect 3-4 weeks for your printed orders to be fulfilled. Tracking information may (or may not) come available approximately one week prior to delivery. We greatly appreciate your patience and your participation in our GlossaHouse community!